Organ Screening – Screening 22
in the 21st-24th week of pregnancy
Objectives:
Detection of
possible fetal malformations
circulatory and localization disorders of the placenta and

risk of premature birth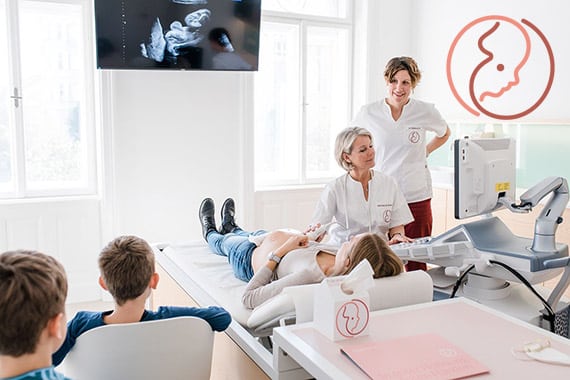 From the 21st week of pregnancy, the organs are already developed to such an extent that they can be examined in detail. During organ screening, the internal organs of the child (including the brain, heart, lungs, kidneys, urinary bladder, stomach and intestinal tract and liver) are examined by ultrasound through the mother's abdominal wall – as are the child's spine, extremities and body contours. In the case of abnormal findings, treatment can be carried out in the womb if necessary. In addition, it is possible to ensure appropriate birth management and plan subsequent therapies with doctors from other specialties (such as neonatology, pediatric, neurological or maxillofacial surgery) during pregnancy. Our examinations are carried out in accordance with the quality criteria of the ÖGUM Level II standards. Our certification stands for qualified prenatal diagnostic examinations with state-of-the-art equipment.
A Doppler blood flow measurement in the course of the examination provides indications of a possible insufficient supply of the child via the placenta (placental insufficiency). By measuring the length of the cervix, the probability of a premature birth is calculated. If desired, an examination for indications of chromosomal abnormalities can be performed during screening 22.
You will receive the results immediately after the examination.
If the position of the child allows, we will be happy to take a 3D ultrasound image during the examination.
Your ultrasound images are immediately available to you digitally.