3D ultrasound / 4D ultrasound
in the 9th-14th week of pregnancy + from the 25th week of pregnancy onwards
Objective:
Impressive 3D color photos and 4D video clips of your child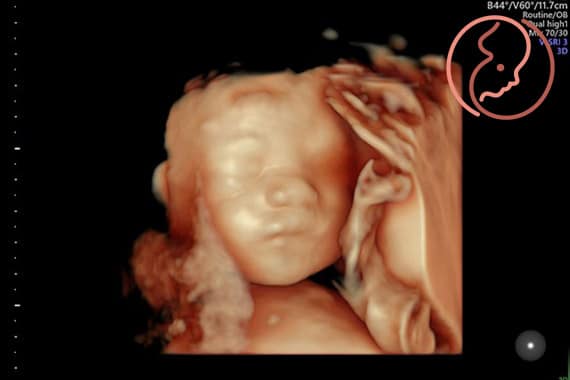 It is a very special emotional moment to see your unborn child for the first time quite realistically in 3D/4D. With the latest 3D/4D ultrasound technology, this visualization is possible through the use of virtual light sources. The completely risk-free examination is performed by means of an ultrasound probe through the abdominal wall and provides impressive plastic color images of your baby. It does not serve to clarify any fetal abnormalities.
As early as the 9th-14th week of pregnancy, it is possible to create a 3D image/4D video of the entire embryo using a 3D/4D ultrasound probe (if the embryo is in an optimal position). From the 25th week of pregnancy, we can already take 3D images of your child's face and detailed images.
Your ultrasound images are immediately available to you digitally.
The quality of the 3D images depends on the amount of amniotic fluid and the position of your child as well as the placenta. Therefore, we will arrange a new appointment with you in case of difficult sonic conditions – of course without additional costs for you.